Rust, Corrosion and Stain Remover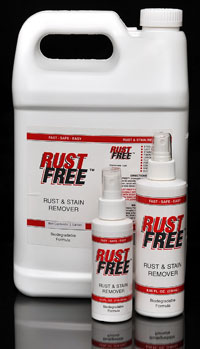 Can be used on:
Steel
Cast Iron
Stainless
Fiberglass
Chrome
Tile
Porcelain
Vinyl
Cloth
Directions
For light rust on steel or cast iron, spray RustFree™ on a rag and wipe surface. Do not spray directly on surface, as it may cause spotting.
For heavy rust, spray directly on rusted surface and scrub with Scotch-Brite™ pad. Wipe off and repeat if necessary. RustFree works best above 70° F.
Caution
RustFree is acidic and should be used with care:
- Test on hidden area before use
- Can cause spotting on cast iron table tops
- Rinse thoroughly off painted surfaces and neutralize with soap and water.
- Do not use on guns or black oxide tools.
- Can dull paint or plastics.
- Can cause spotting on cast iron or steel.
Use Boeshield T-9® after cleaning with RustFree to protect bare metal surfaces.