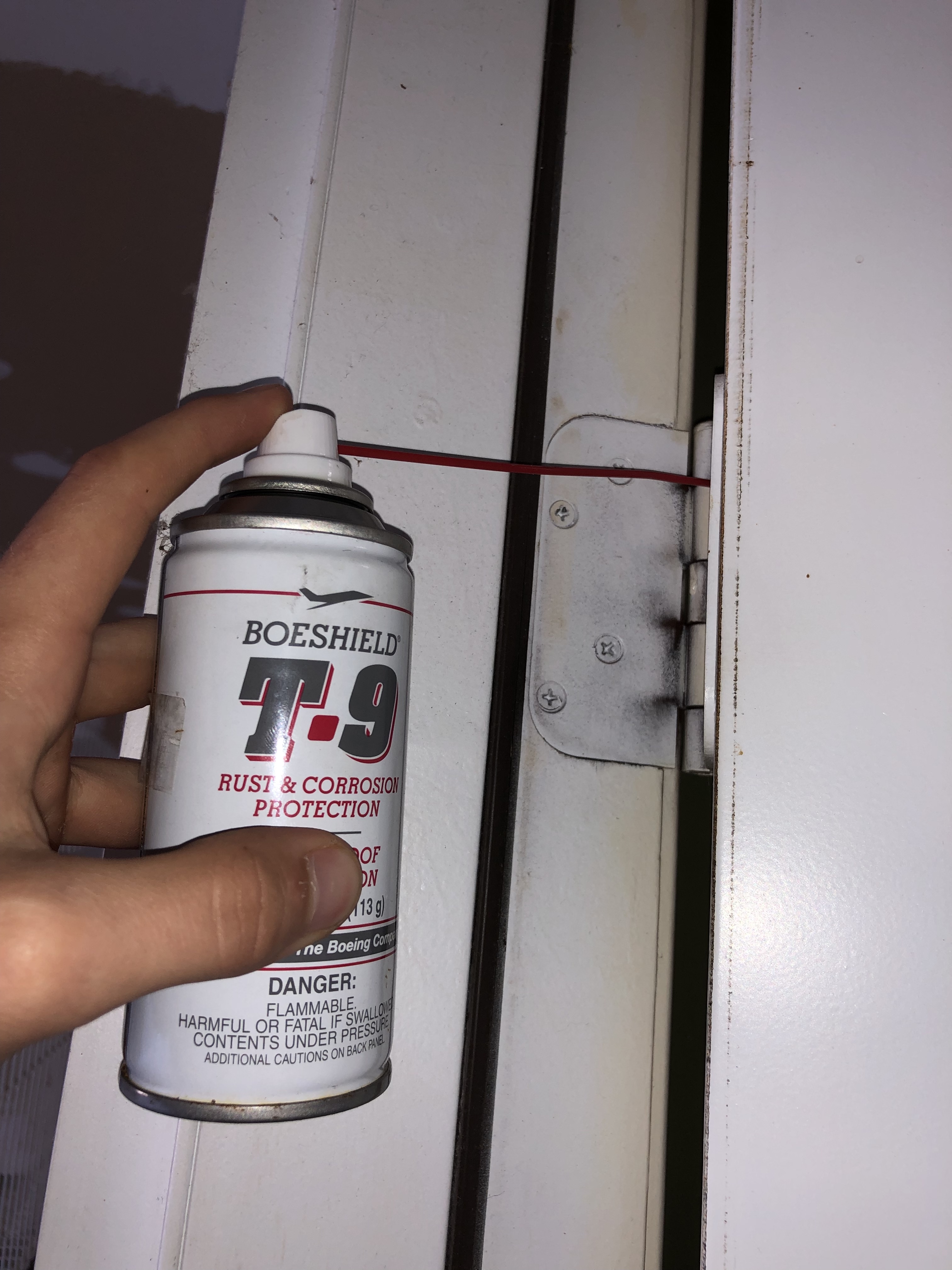 Chances are you're familiar with using Boeshield T-9 on your bike, boat, car, tools, or RV; but did you know about these savvy household applications? If you have an extra can of T-9 occupying your self, then put it to work with in your home!
1.) Door locks & Hinges
We all have that squeaky door that door that drives everyone crazy. The good news is that T-9 is extremely effective at fixing squeaky doors. Simply spray your hinges, let the solvents penetrate (30s), and then wipe off the excess. This will fix that squeak in a matter of seconds, trust me. This video demonstrates how quick this process really is.
Also, while you're fixing that squeak,  spraying your locks prevents them from seizing and provides fluidity when locking/unlocking your door. If your key ever gets stuck, T-9 can also provide lubrication to help release your key from the lock. This can apply to any kind of lock (car door, trunk, pad, etc).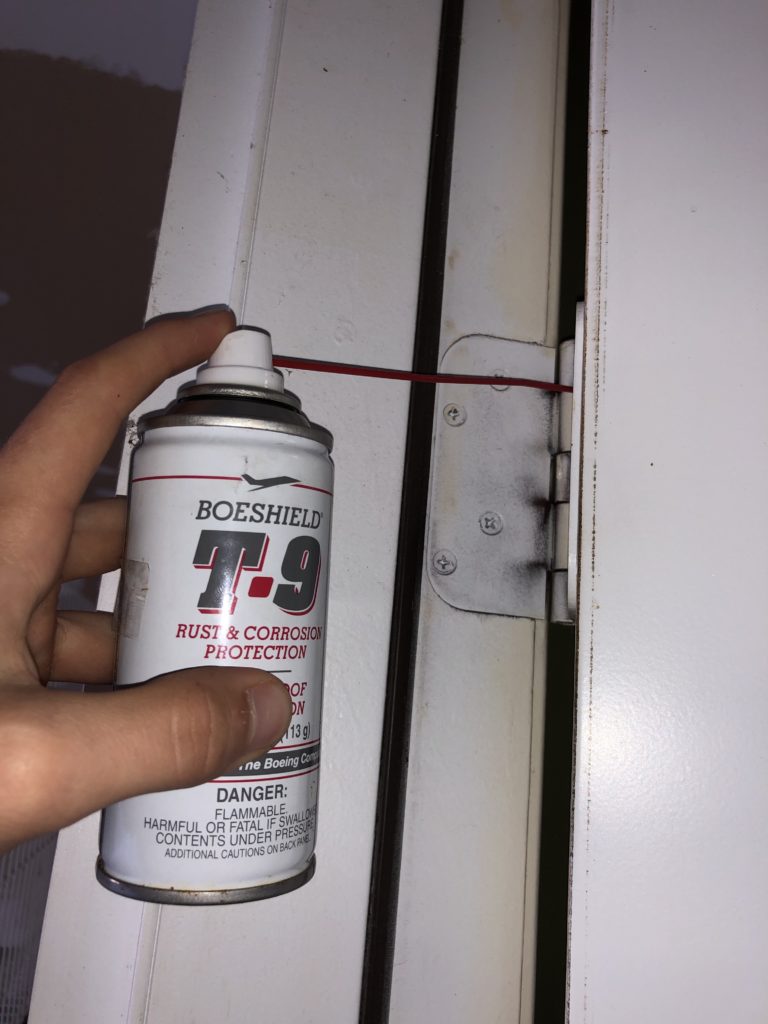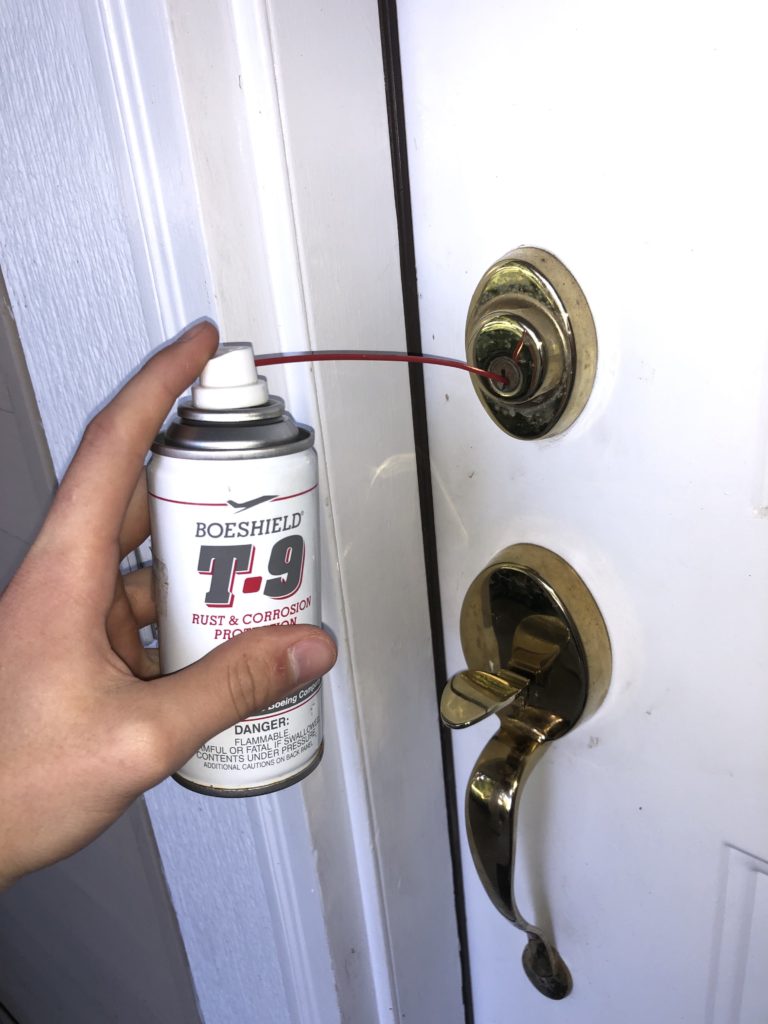 2.) Garage Door
There are countless moving parts on garage doors that are subject to wear and corrosion. If your garage door (like mine) sounds like it wants to be put out of its misery, it may just need some T-9. Start by cleaning off all of the hinges, rollers, chain, and springs. Then apply your T-9, let it penetrate (again about 30s), and wipe off. Thats it you're done, your garage will thank you.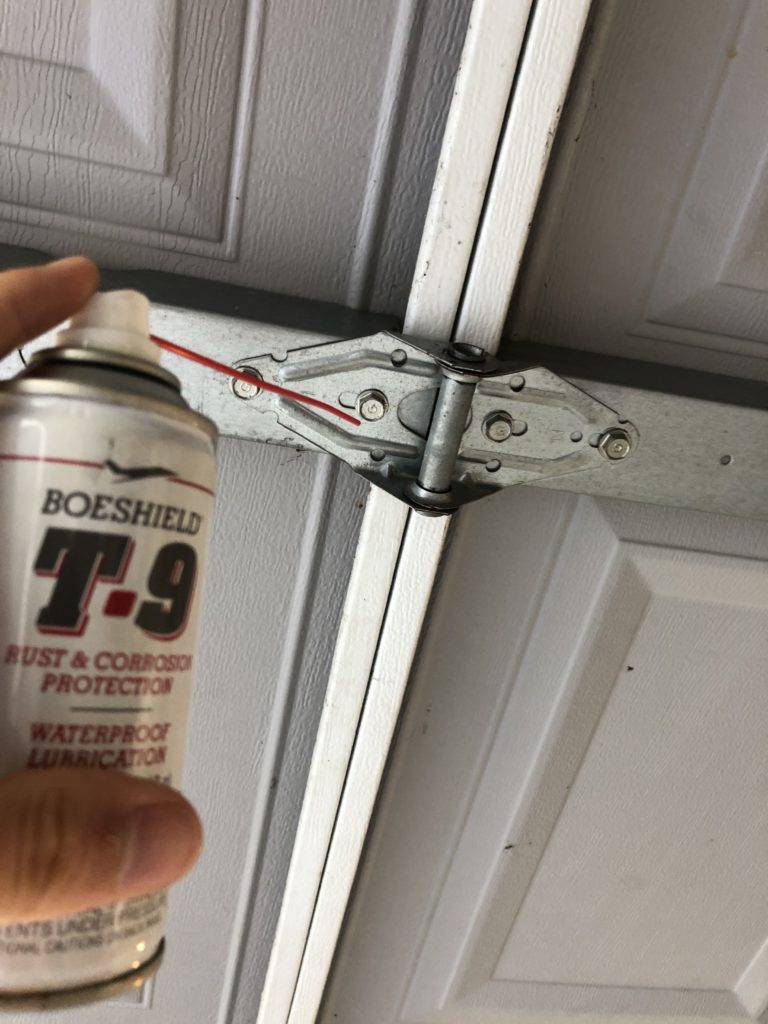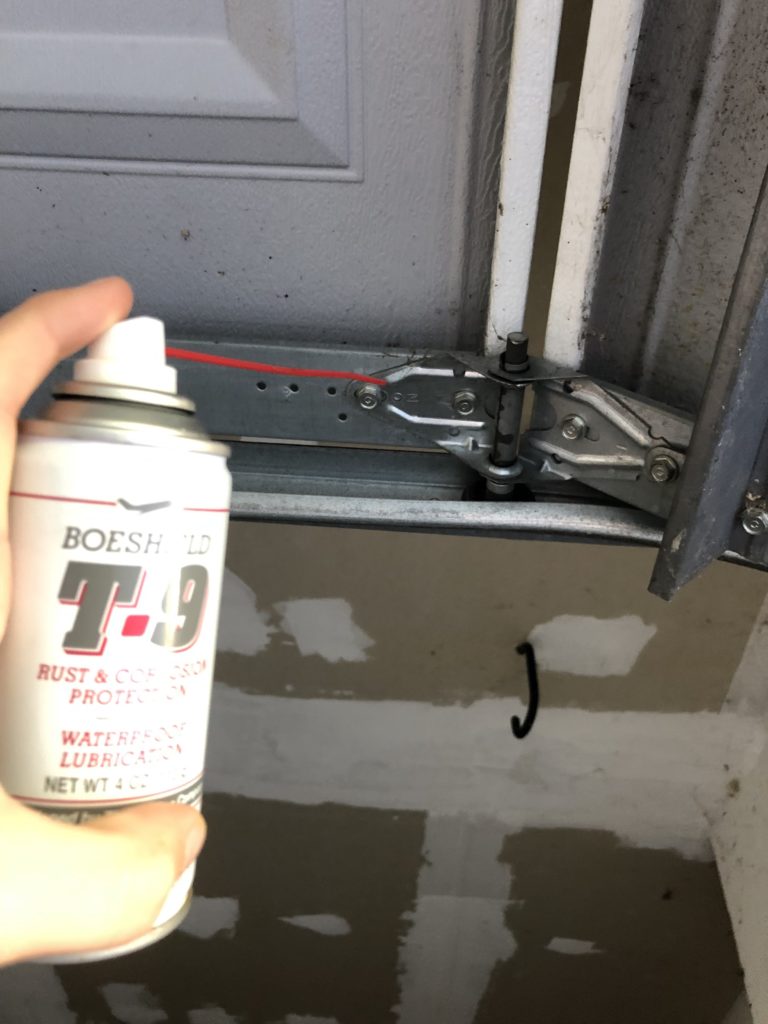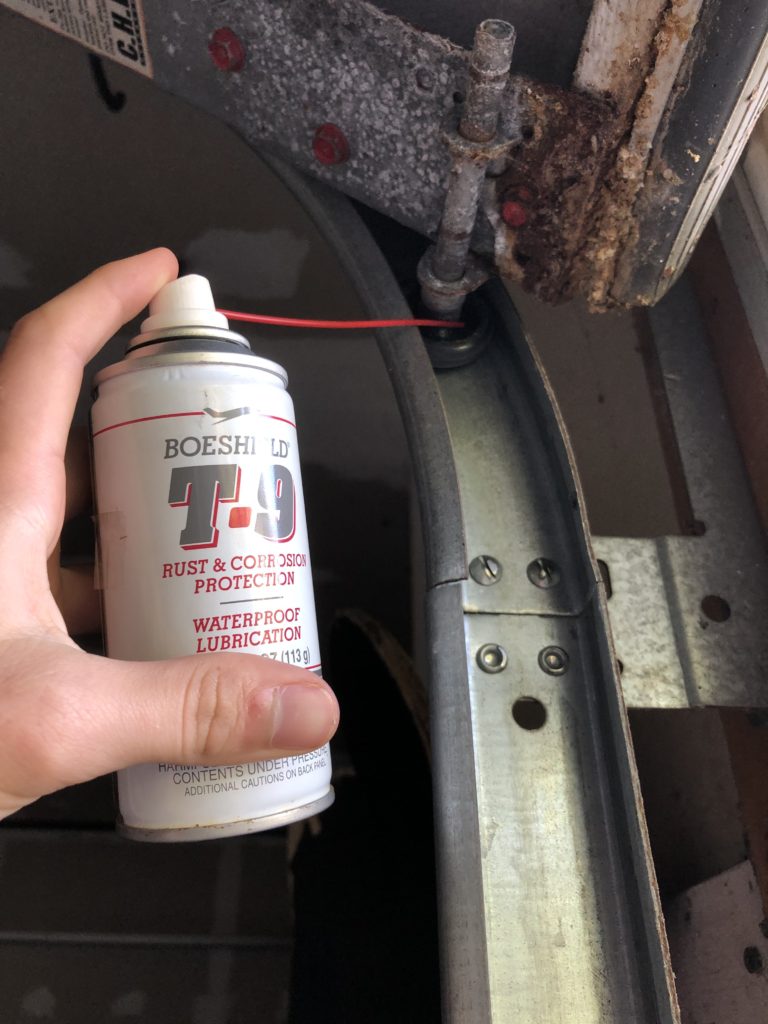 3.) Sliding Door
When we think of sliding doors, we think of people mindlessly running into them to comedic effect, but we should be thinking T-9. To keep your door sliding like it should: clean off the tracks and spray it with T-9. Do this on both the glass sliding door and your sliding screen door.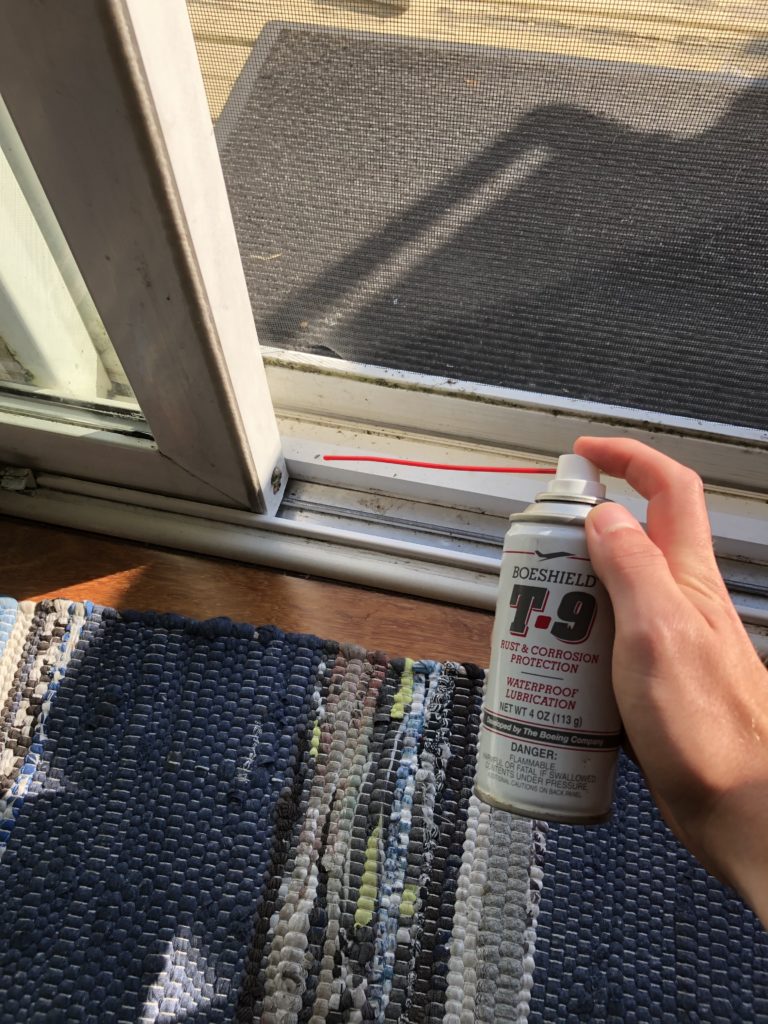 4.) Windows
Another problem home owners run into is windows becoming stiff and noisy. Whether you have crank windows or classic sliders, they are going to be subject to wear. The process is same as always: clean, apply T-9, and then wipe off!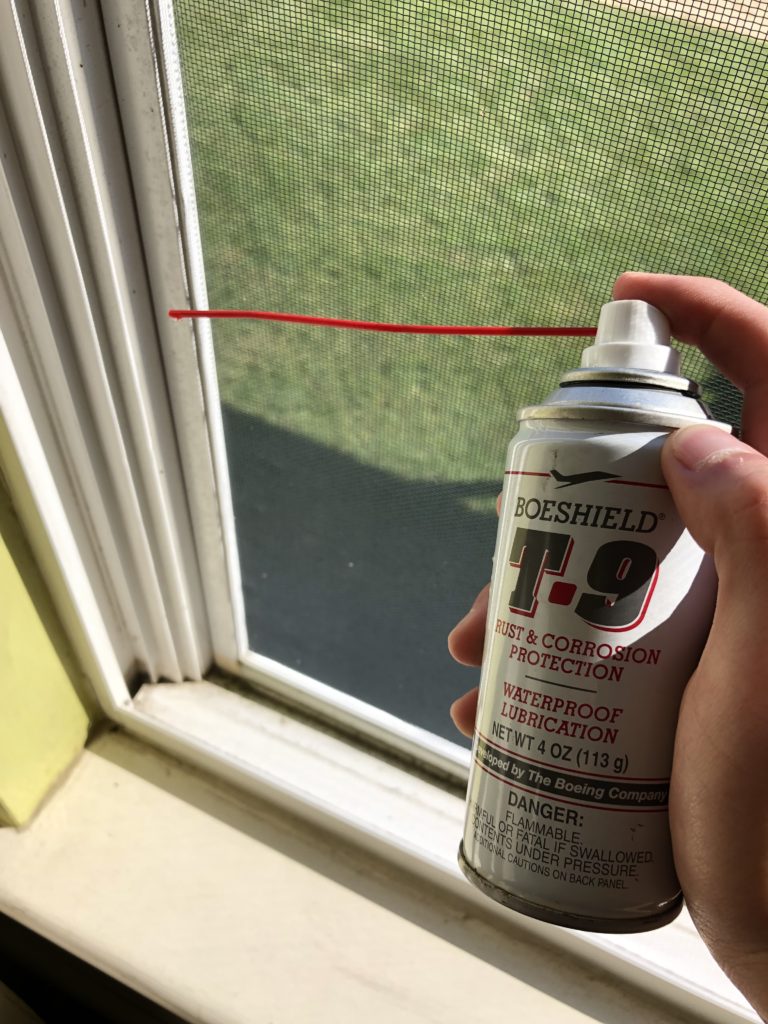 5.) Lawn &Gardening Tools
T-9 can be used on your lawnmower blades to protect it from corrosion as well as preventing yard waste buildup. You can also use T-9 on your gardening tools to prevent them from rusting. If your tools (like this shovel) have already started to rust, I'd recommend using some RustFree and then applying T-9 to protect it .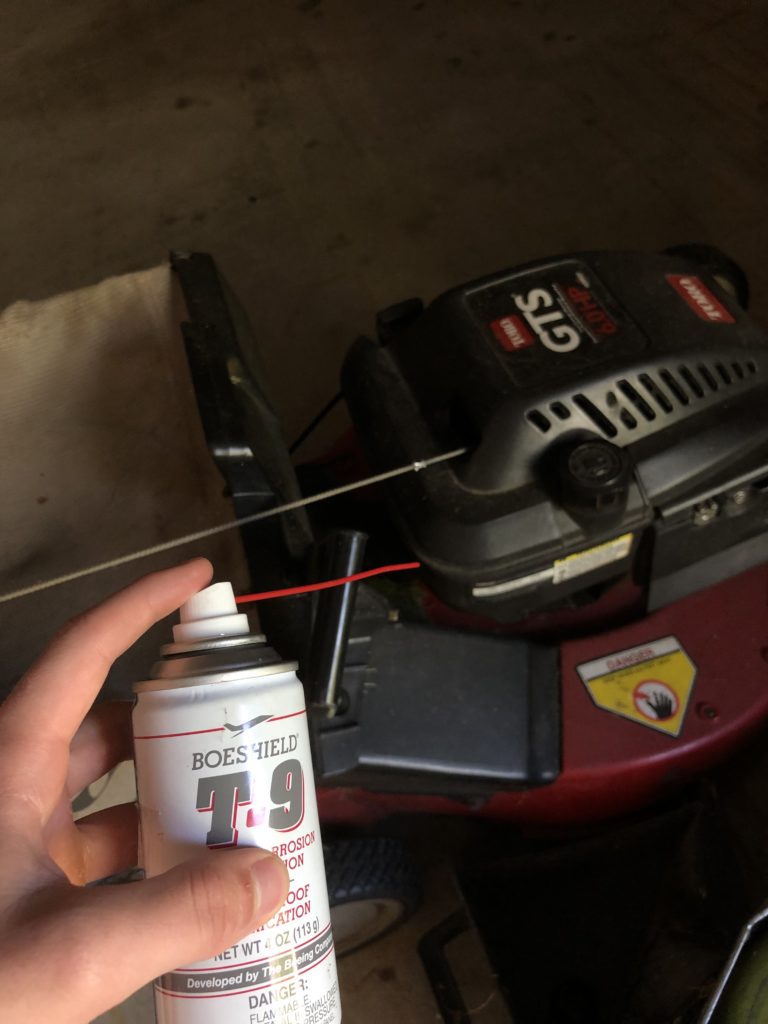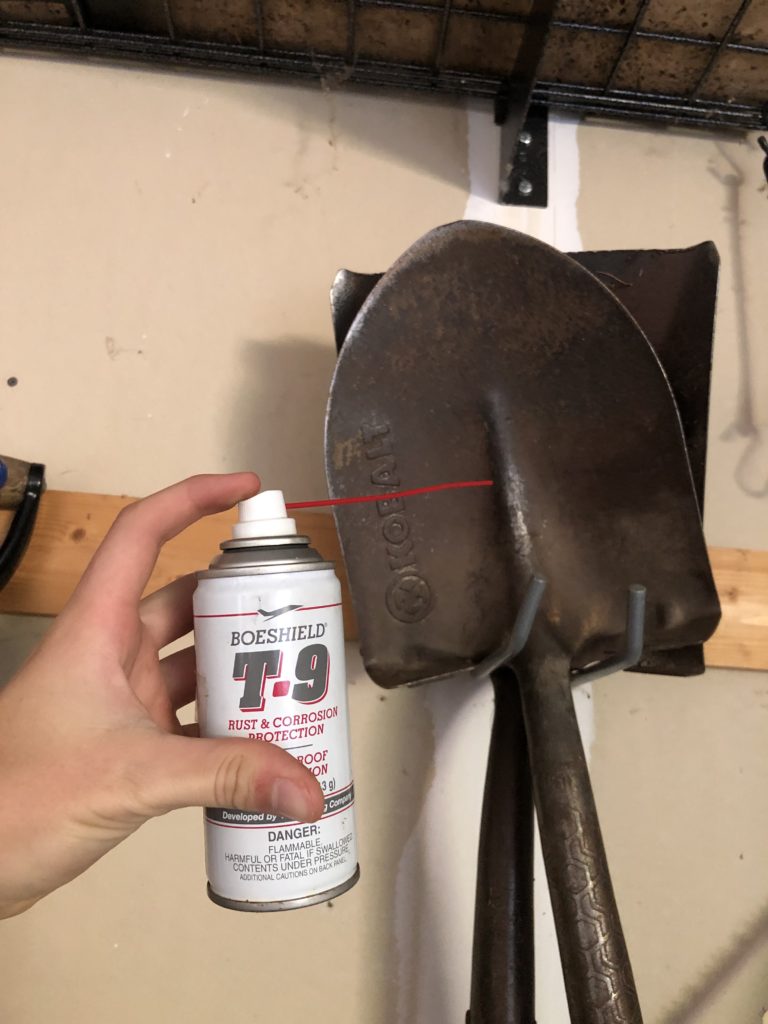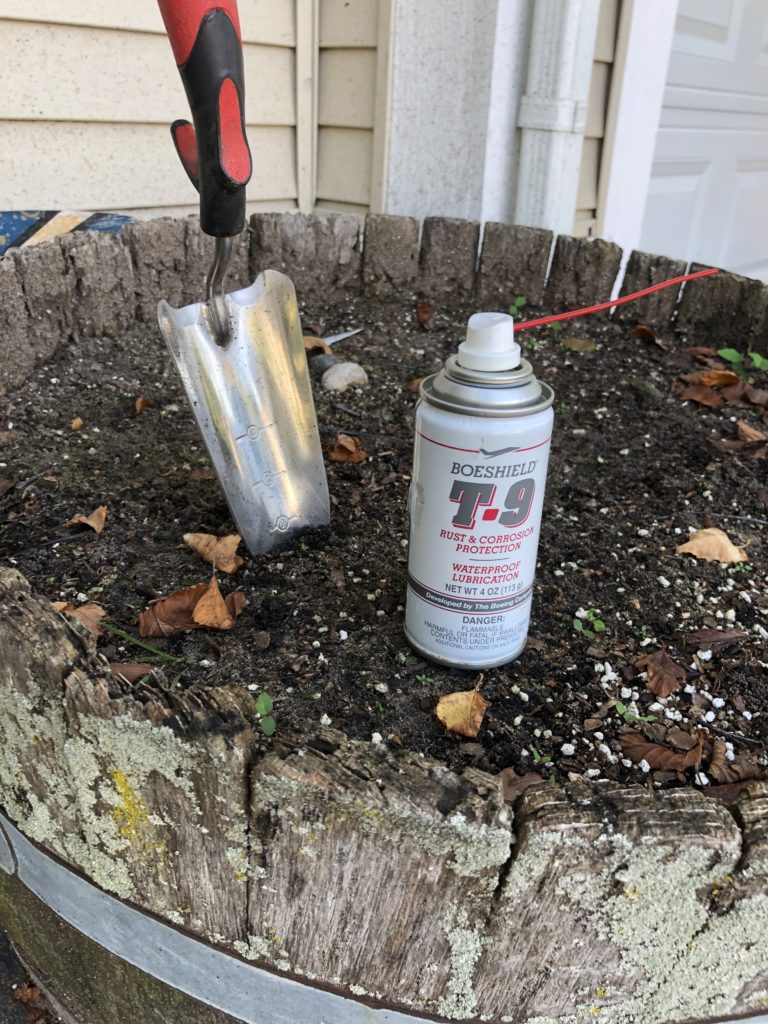 6.) Outdoor Furniture
As you head outside to your porch or patio through your freshly T-9'ed sliding door, its now time to address your outdoor furniture. Your tables, chairs, umbrella stands, and grills are facing the elements 24/7, making them highly prone to rust. So, at the beginning and end of each season, apply some T-9 so your grill and umbrella stand don't look like mine!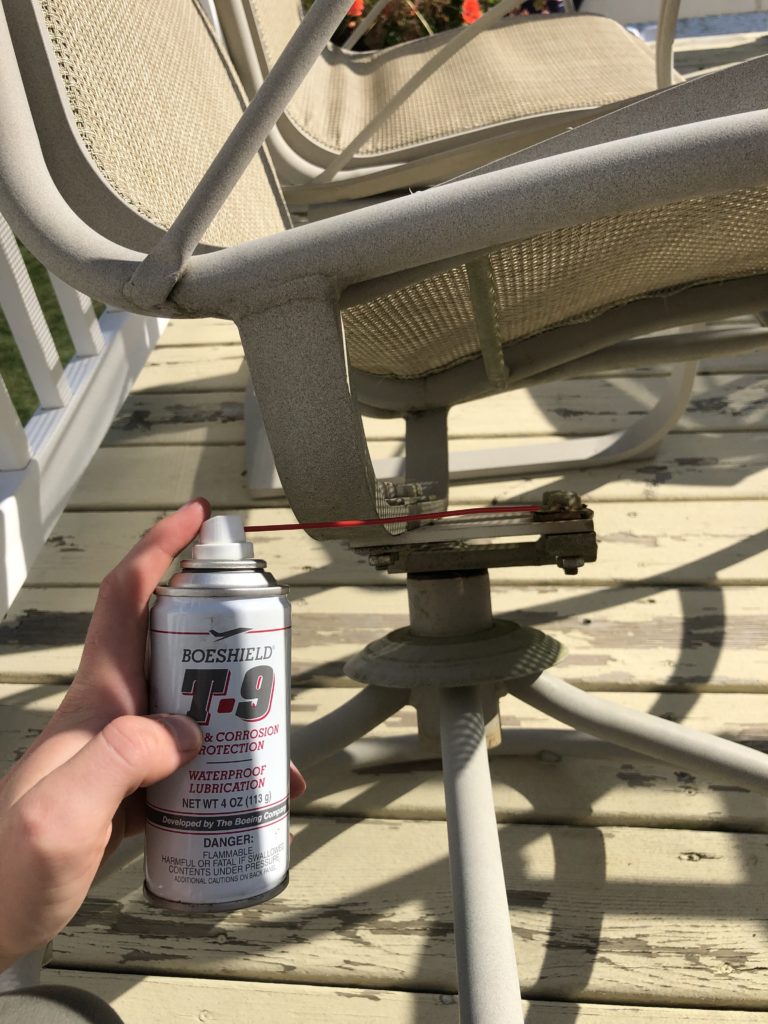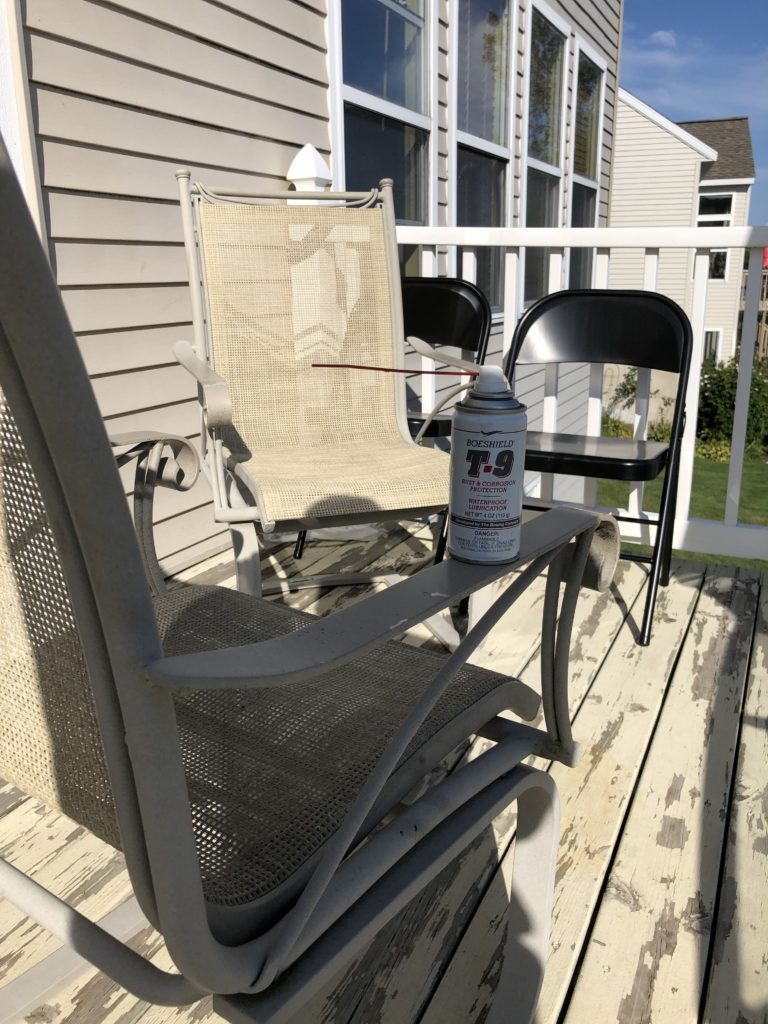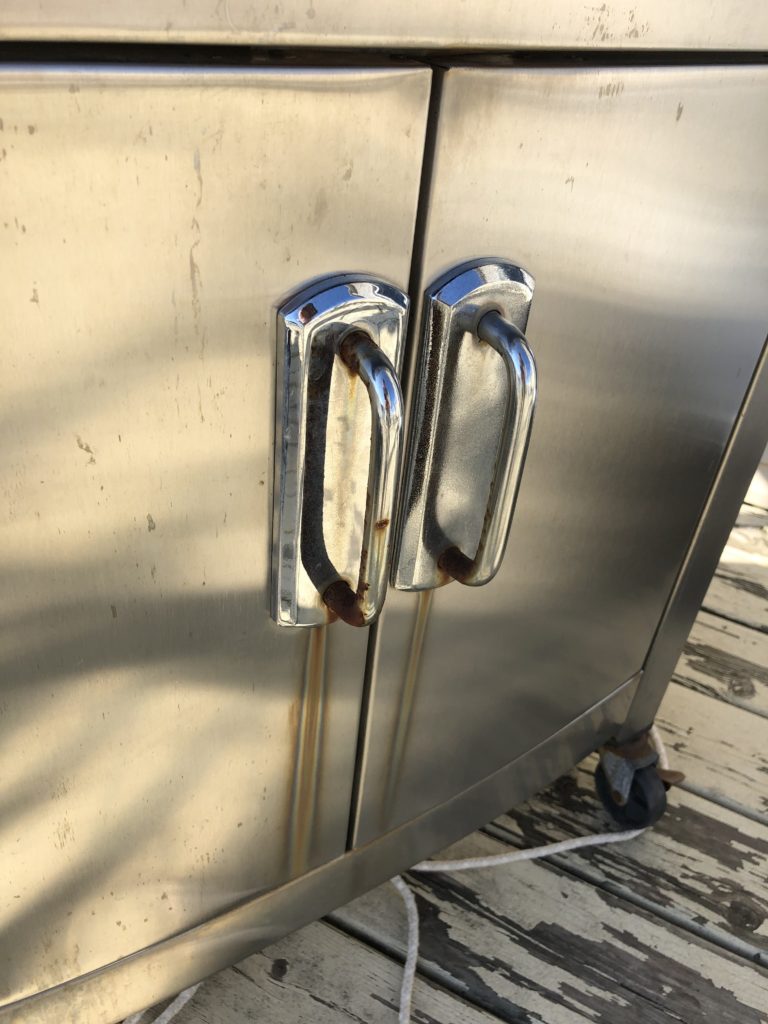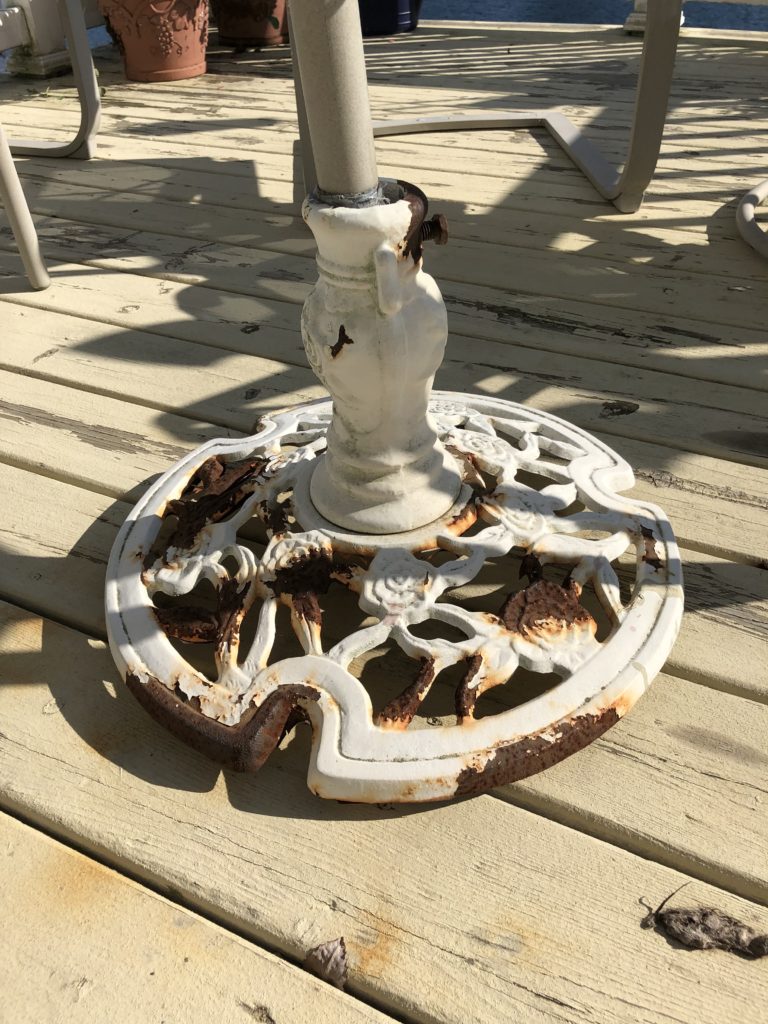 Bonus: bird feeder
That squirrel looks pretty guilty in this photo. A good way to keep squirrels off you bird feeder is to make the poll to slippery to climb with some T-9. The best part about doing this is that you get to watch some very confused squirrels attempt to climb your bird-feeder in hilarious fashion.